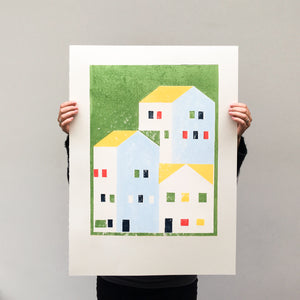 Handmade Linocut print Urban City - Green
5 colors: Red, yellow, green, light blue and dark blue
Size: 50 cm x 70 cm
Signed and numbered in an edition of 2.

Worldwide shipping! 

Each print is hand printed by ourself and always printed in a limited edition. 
Back to the basics, simplicity. Can we built cities from just a simple shape like a rectangle? Can everything arise from this base? We search for the geometry, the shapes and patterns of Utrecht thus creating a new interplay of lines. This illustration is made up of elementary shapes and primary colors in honor of the year of 'de stijl'. The Rectangle City is a linoprint, printed in an edition of 17. Thanks to this printing technique, every print is unique.