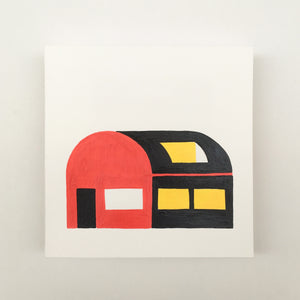 Handmade painting of the Tiny House project. Every houses is limited in 1 and available in 4 colors. Of every house we have a wooden sculpture and available in 4 colors: green, blue, pink and red. Contact us to order this wooden sculpture (wecolor@karsenboom.com). 
With sustainable painting, paper and wood. The ash wood is waste wood coming from trees of Utrecht, The Netherlands. 
300 grams Biotop Paper, Fairf painting. 
Size: 15 x 15 cm
Signed and numbered in an edition of 1. 
Worldwide shipping!